About Us – Nuvo Builders

More than 20 years ago, Nuvo Builders set out to be the premier builders in The Heights. Today, our commitment to craftsmanship and quality makes us the best choice for construction, renovation and remodeling in Houston's inner-loop neighborhoods.
OUR STORY
Since 1998, Houston Heights resident David Wennagel has renovated historic properties in Houston. But quickly, homeowners in the area saw the quality of his work, and they approached him to provide expertise and advice for a broad range of construction and renovation projects. 
Seeing this demand, Wennagel wanted to expand his offerings to provide a full range of building services: new build construction, renovation, and remodeling, as well as continued restoration. However, the expansion required help. In 2013, Martin Banister joined the company as Managing Director.
Since then, Wennagel and Banister have made Nuvo Builders the premier builders in The Heights and other inner-loop neighborhoods in Houston.
---
Our Team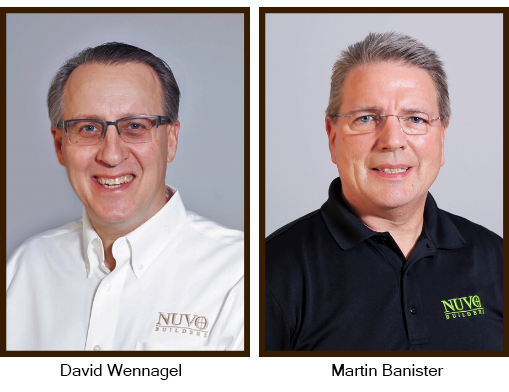 David Wennagel | Owner
David Wennagel is Nuvo Builder's owner and general contractor. Prior to founding Nuvo Builders in 2011, Wennagel was the owner of Pinnacle Development, which specialized in historic home restoration in Houston's Heights neighborhood. 
Martin Banister | Managing Director
As managing director of Nuvo Builders, Martin Banister brings considerable business consulting experience and expertise to the company. In addition to his role at Nuvo Builders, Banister serves as a business consultant for the Houston Arts Alliance.
---
INDUSTRY MEMBERSHIPS
Nuvo Builders is proud to be a member of the Greater Houston Builders Association and the Texas Builders Association.
---
OUR VENDORS AND PARTNERS
Nuvo Builders works with a number of local Houston and national companies who share our commitment to quality. We work regularly with these and others on our projects.
---